Introduction
Who am I
Diving experience
You ain't from around here boy!
Stop me if you can't understand
Ask questions any time
What is this all about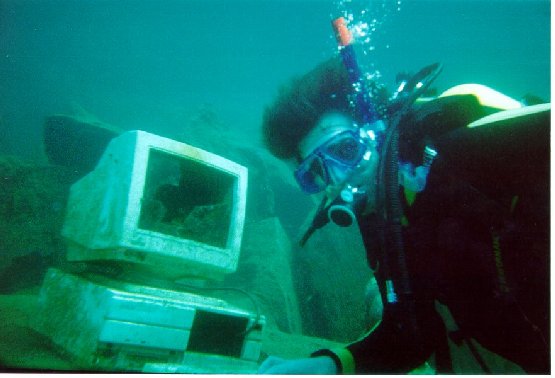 Dive Computers
Decompression theory
Decompression theory
How nitrogen dissolves in your tissues
What is saturation

Why saturation depends on depth and dive time
What happens when you go deeper - suprasaturation
What happens when you ascend.

Tissues and tissues compartments
Why bubbles form - microbubbles
Why do bubbles cause pain or paralysis
How tissues compartments may connect
Haldane model - parallel model
Series model - DCIEM tables (Canada)
Exponential linear - ongass exponential (fast), ofgass linear (slow)
Slab - only one compartment (British Sub Aqua Club tables)
Buhlmann model - parallel series
Haldane's model
J.S Haldane created his theory in the early 1900
Tissues half-live theory – how tissues accumulate and release nitrogen
Tissue half-live – the time necessary to allow the amount of gas to change by 50%
Haldane chose 5, 10, 20, 40 and 75 minutes as tissue times (limited by the technology)
Buhlmann's model
Developed by Albert Buhlmann over 30 years and published in 1983
More tissue compartments that Haldane
Tissues are parallel series tissues
The most used in the current computers
Full specifications of the decompression algorithm published
History of dive computers
First serious attempt to make a decompression meter done by the US Navy in the mid fifties
First decompression meter available to the public – Italy 1959
First commercially available (electronic) dive computer – Orca Edge 1983 based on the Haldanian decompression theory
Dive computers explained
Electronic devices that compute in real time your theoretical nitrogen level
Component parts:

The case
The pressure sensor
The O-rings
The PCB
PCB - component blocks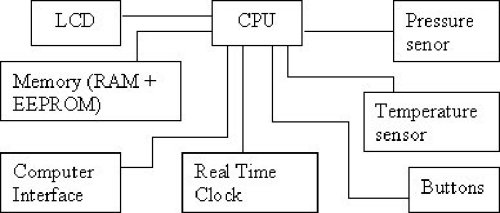 Features of dive computers
The new Uwatec computers
Maximum displayed depth 120 m
Resolution between 0.8 m and 99.9 m: 0.1 m, >99.9 m: 1m. The resolution in feet is always 1 foot
Calibration in fresh water.
Adaptive Buhlmann decompression algorithm with 8 tissues (ZH-L8 ADT)
Microbubbles compensation (6 microbubble levels)
Algorithm adjust for the workload, altitude (automatic) and temperature
Display water temperature and ambient temperature
User adjustable tank reserve setting
Factory replaceable battery. Life 5 years (500 - 1000 dives).
Nitrox capable. Oxygen mix adjustable in 1% increments.
Dives stored in the dive log: 99 logged dives.
Dive profile: 100 hours (smart pro), 50 hours (smart com).
Variable ascent rate.
Wet fingers contacts user interface
Auto switch on.

IrDA PC communication
Dacor Darwin Computer
Maximum displayed depth: 150 m.
Measurement resolution: 10 cm in the 0-100 m range / 1 m in the 100-150 m range.
Temperature compensation of the measurement.
Calibration in fresh water.
Algorithm: Deterministic-exponential algorithm, with M values (low bubble) derived from the Rogers methods (modified Haldanean).
11 tissues.
Power supply: 2 alkaline 1.5 V batteries (type AAA) user replaceable. Life: 12 months with 50 dives
Nitrox capable. Oxygen mix adjustable in 1% increments
Manual adjustment for altitude.
Manual selection of fresh/sea water.
Manual clear of residual nitrogen.
Dive history: deepest dive, total number of dives, coldest temperature, total dive time.
Dives stored in logbook: 50 with profile for a maximum of approximately 38 hours.
Dive profile sampling interval 20s.
Buttons user interface
Button switch on before dive recommended but not required.
PC interface
Dacor Transcend Computer
Maximum displayed depth 99 m.
Modified Buhlmann algorithm, with EAN calculation for enriched air Nitrox dives and J correction factors for personalized algorithm.
Display user configurable.
Backlight changes color.
Nitrox capable
Manual clear of residual nitrogen.
Battery replaceable by user 2 years operation.
Dive profile intervals configurable by the user (20s/30s/60s)
Memory capacity for 100 one-hour dives with 20 sec profile intervals.
Wet fingers contacts user interface
5 manual altitude programs.
Manual water salinity correction factor (0%, 1%, 5%).
PC interface.
Conclusion
Things to remember:

Diving with a computer makes your dive safer although DCS can still occur
Remember that the decompression model is a theoretical one
Read your computer manual and KNOW your computer
Follow what your computer is telling you to do
Check your batteries and don't ignore the low battery warning