Pictures and artwork
Fantasy Lake, a rock quarry located in Rollesvile at 17 miles from Raleigh. Good place to take your open water certification dive. You have to pay $15 to get in, only divers and guests are accepted. If you are not a diver you have to be over 18 to get in. Pretty good visibility, the conditions could be better. The lake has air filling utilities and a equipment shop and rental facility. You could spend a pleasant weekend if you camp there or you could have a good time if you go there just for a dive. Max depth 60 ft.
| | |
| --- | --- |
| | On shore before our first real dive. From left to right: Chris, Chris, Vanessa, Me, Curtis and .... I wish I could remember her name... |
| | |
| --- | --- |
| Our instructor Stephen Wring trying to put on his dry suit ... unsuccessfully. | |
| | |
| --- | --- |
| | My diving buddies, Chris and Chris. |
---
Lake Rawllings, a rock quarry in Virginia, better visibility than Fantasy Lake, with showers to clean your equipment, statues on the bottom of the lake, gear rental, air filling and camping places. Nice quarry, excellent to spend a day with your friends and to do 2-3-4 dives. Max depth 60-65 ft.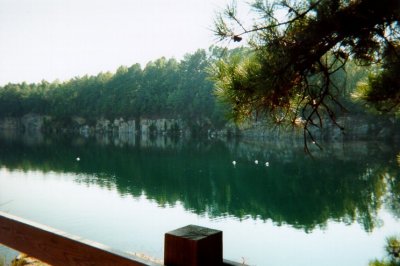 | | |
| --- | --- |
| One from the fish form the lake. A lot of friendly fish in this lake. | |
| | |
| --- | --- |
| | My diving buddies Chris & Chris underwater. |
| | |
| --- | --- |
| I was trying to get my emails but the server was not working so I just played Quake and I enjoyed watching the fishes. | |
| | |
| --- | --- |
| | In the background, Bubba the big fish |
---
Beaufort NC, a very small town on the coast of North Carolina. A very nice place to dive. The biggest diving operator is Discovery Diving situated on road 70 near the Texaco gas station. They charge $45 for a half day dive (two 25 minutes dives at 30-70 ft. ) and $90 for a full day dive. Good conditions, nice prices for renting equipment, nice charter boats.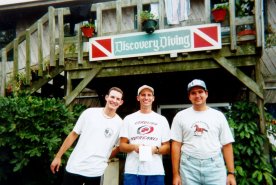 | | |
| --- | --- |
| We went 45 minutes with the boat and we dove to see the where of the ship Indra. Good visibility, a lot of huge barracudas and some other big fish. | |
| | |
| --- | --- |
| | "Look I am the king of the world". We where here in the front part of the ship, but Ryan (yellow black wet suit) doesn't look as good as the girl in "Titanic". |
| | |
| --- | --- |
| Me, just hanging out at 65 ft. under water. | |
| | |
| --- | --- |
| | A nice school of fish, trying not to be eaten by the barracudas. |
---
Devil's Den in Williston FL, a very small town on the golf side of Florida. The town has around 2500 inhabitants but allot of scuba divers are going to see Devil's Den. Devil's den is a hole (cave) in a middle of a pasture with 75 deg. F water all year long. The water is clear and not to deep (around 20-50 ft.). If you are training for cave diving that's the place to go because is not dangerous and the small caves in the walls of the main cave are not to big.
Why this strange name? When the settlers arrived a couple of hundreds years ago, they arrived on this pasture during the winter and they have seen "smoke" coming out from this hole. They thought that this hole is the Devil's den so there we are, we have the name.
| | |
| --- | --- |
| One of the caves who is opening from the main cave. Bring a small flash light to watch the walls of the cave it is worth it. | |
---
Rainbow River in Crystal River FL is a town on the golf side of Florida. Rainbow River is a big and clear river close to the town Crystal River (about 10 miles). To go for a dive in Rainbow river you have to charter a boat and after a short boat ride up the stream, the captain of the boat will drop you in the water. You will do a great one hour and a half drift dive. The water is crystal clear (so here I will not explain the name) and has 75 deg. F all year long.
| | |
| --- | --- |
| | The river has allot of underwater springs. In the picture you can see one of the big springs (the black cave is a hole from the water is coming out). The current in this hole is so strong that if you try to get in you have to grab some rocks. |
| | |
| --- | --- |
| This is a Garr, a strange fish you can see in Rainbow river. They have teeth like the Barracuda but they are smaller. | |
---
Crystal River in Crystal River FL is a town on the golf side of Florida through which it pas the river Crystal river, the famous winter home of the Manatees (see link for more information). The Manatees are nice water mammals and they are hanging out in Crystal river for the winter when the water in the ocean is to cold for them.
| | |
| --- | --- |
| | This is a picture of a manatee (sorry no "live" picture, I wasn't so lucky to take a underwater picture of one). |